Chocolate brownie crinkle cookies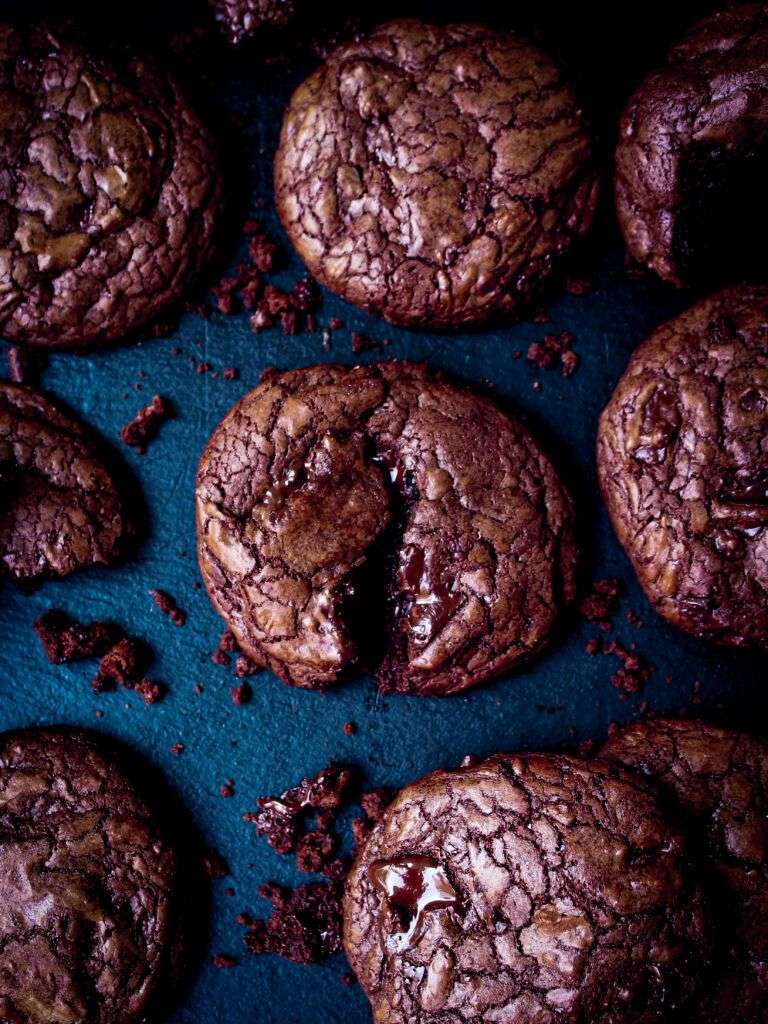 If you want that rich ,dark chocolate brownie crinkle cookies you are in the right place..Chocolate cookies continue to be my favorite dessert, i love them in all forms and shapes…but they can be sometimes overwhelmingly sweet…this recipe has the right amount of sugar..that deep ,rich chocolate taste that we are looking for in a chocolate biscuit, obvious you can modulate this recipe on your taste, add less sugar if you want them less sweet….and bake them just for 10 min if you want them to be more fudgy….and when they are still warm scoop some ice cream on top ….you will surely remember them 🙂
Yield:12-15 chocolate crinkle brownie cookies
Prep time:10-15 mim

160 gr dark chocolate (melted)+150 gr roughly chopped dark chocolate(chocolate chips)
40 gr butter
50 gr flour
50 gr brown sugar
1 egg
1/4 teasp baking powder
vanilla extract
pinch of salt
 Preheat your oven to 175°C and line a baking sheet with baking paper.
Place a saucepan filled with 2-3 inches of water over a medium low heat and bring to a boil.
Put your dark chocolate  and your butter in a glass medium bowl.
Set your glass bowl over the saucepan with the simmering water (you have created a double boiler).
Let the dark chocolate and the butter melt down stirring occasionally.
When melted, remove the glass bowl from the heat ,set aside and  let it cool down slightly.
Now, in a medium bowl whisk the egg (by hand or with a mixer) with the sugar, then add gradually your flour sifted, baking powder, vanilla extract and at last the salt.
Pour over the mixture your dark chocolate&butter melted.
Mix everything until you achieve a dough that is well combined and homogeneous.
At last ,add your remaining dark chocolate roughly chopped (chocolate chips).
Scoop the cookie dough with 2 tablespoons and place small balls on your prepared  baking sheet.
Bake your cookies in your preheated oven for about 12-13 min.
Remove your crinkle brownie cookies from the oven ,let them cool down slightly and enjoy them with a warm glass of milk.
© 2021, The chocolate brain. All rights reserved.