the perfect chewy chocolate chip cookies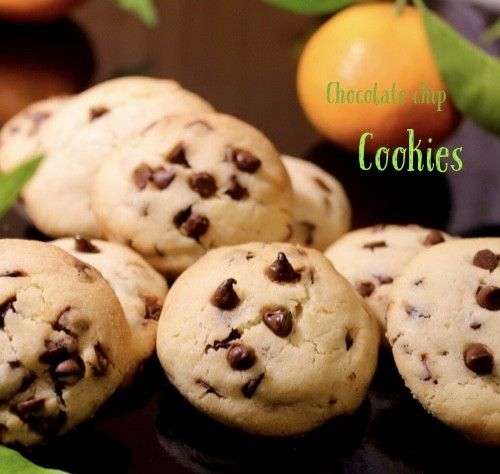 A handful of flour ,two chocolate drops and the magic is created..delicious little biscuits ,the perfect chewy chocolate chip cookies…nothing beats them…
For your breakfast or tea time they are wonderful….i eat them also in the evening with a hot glass of milk…
Yield: 10 cookies
Prep time: 10 min

100 gr melted butter
20 gr brown sugar
80 gr granulated white sugar
pinch of baking powder
pinch of salt
1 ehh
190 gr flour
lemon peel(orange)
100 gr dark chocolate
Preheated oven at 180°C - 15 MIN
Preheat your oven to 180 °C
Grease and line a baking sheet with baking paper.
Into a medium bowl pour 100 ml melted butter .
Add 20 gr brown sugar ,80 gr granulated white sugar ,a pinch of baking powder and a pinch of salt.
When the mixture is homogeneous add an egg and 190 gr sifted multipurpose flour ( cake flour)
For flavoring i added just one lemon peel but you can also add some vanilla flavor.
Gently incorporate 100 gr dark chocolate chips , with a spatula moving from bottom to the top until the batter is well combined.
Obtain from this mixture small balls (help yourself with a tablespoon) the size of a walnut.
Place the balls onto a baking sheet lined with baking paper far enough one from each other as they will tend to widen during baking.
Bake in a preheated oven at 180 ° C  for about 15 min .
When baked transfer the cookies to a cake rack.
Allow them to cool down completely.
Enjoy!
watch how to make it here:
© 2021, The chocolate brain. All rights reserved.