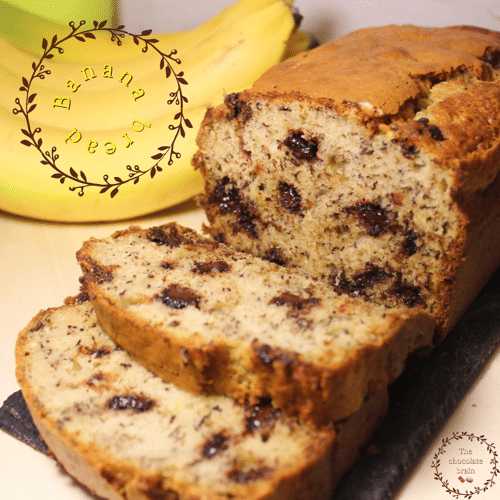 One of the most classic desserts ,easy to make , soft ,made even more delicious by the addition of chocolate chips….but if you want to achieve just a simple banana bread you can skip the chocolate chips.Usually is made with butter but for this recipe i used a good quality sunflower seed oil… i find it gives to the cake a more light texture….
1.1/2 bananas (260 gr)
250 gr flour
120 gr sugar
half teasp baking powder
10 gr baking soda
40 ml milk
60 ml sunflower oil
2 eggs
125 gr dark chocolate chips
Baking Time:170°C-15 Min Then Reduce To 160°C And Bake For Another 25-30 Min
Preheat your oven to 170 °C
In a medium bowl mash 1.1/2 bananas ( 260 gr )
In a large separate bowl mix all the dry ingredients : 250 gr multipurpose flour sifted ,120 gr granulated sugar, half teasp of baking powder and 10 gr baking soda
To the mixture add 40 ml milk ,60 ml sunflower seed oil and 2 eggs .
Add the mashed bananas and 125 gr dark chocolate chips.
Grease and line with baking paper a loaf tin and pour the cake batter into the tin .
Bake in a preheated oven at 170 °C for 15 minutes then reduce to 160 °C and bake for another 25 -30 min.
Remove from the oven and let the bread cool down onto a cake rack.
watch how to make it here:
© 2021, The chocolate brain. All rights reserved.