the best Chocolate peaches
This is a ,,heart "recipe because i was raised eating these mouth watering chocolate peaches that my granny prepared every holiday or special occasions.
A traditional dessert ,in many countries, you can find it in bakery shops but it's also great homemade…Our recipe is the proof…:-)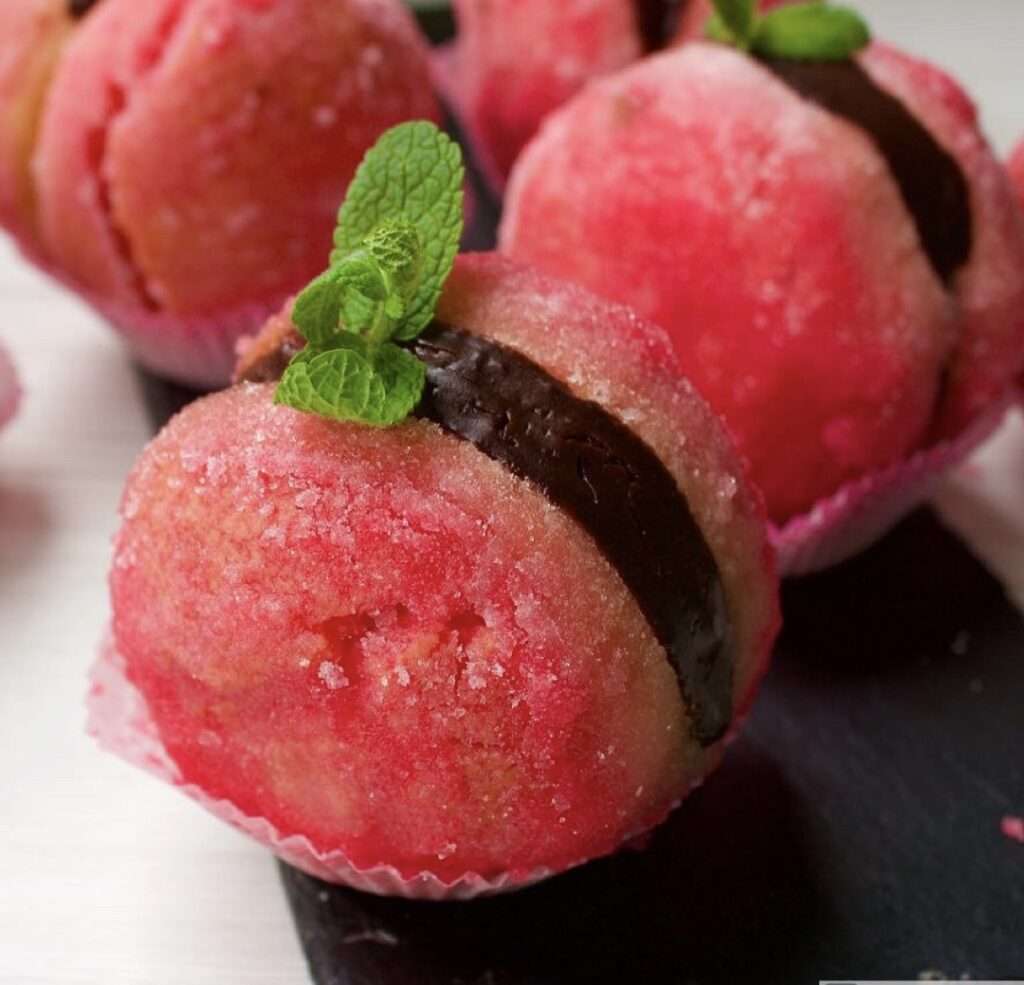 Yield:30 min + baking time
Prep time:7-8 chocolate peaches

For

the biscuits:

500 gr multipurpose or cake flour
175 gr granulated sugar
100 gr butter
3 eggs
16 gr baking powder

For the filling : 

chocolate pastry cream , vanilla pastry cream or nutella

For the decorations:

100 ml alchermes liqueur (if you can't find alchermes liqueur you can use 1-5 drops of red food coloring )
100 ml water
granulated sugar
preheated oven to 170°C – 20 min 
Preheat your oven to 170°C.
Grease and line 1-2 baking sheets with baking paper.
Prepare 14-15 nuts shells.
Into a medium bowl mix 100 gr room temperature butter with 175 gr granulated sugar.
Gently incorporate ,one at a time, 3 eggs and mix until the mixture is homogeneous than add 500 gr multipurpose flour and 16 gr baking powder.
Mix until the batter is well combined.
Obtain from this mixture 14 – 16 balls that you will place one by one on top of the nuts shells (you can also just bake the balls as they are and then hollow out the center  ,when cold ,with a teaspoon.)
Place the balls onto a baking sheet lined with baking paper.
Bake in a preheated oven at 170°C for about 20 min.
Remove the biscuits from the oven and let them cool down completely.
 Fill the biscuits with your favorite chocolate cream, vanilla pastry cream, nutella etc
Mix 100-150 ml water with 50-10 ml alchermes liqueur (if you don't have it add 1-5 drops of gel food coloring to the water to achieve the red coloring)
Roll each biscuit into the syrup and then into granulated sugar.
Place them onto serving plates and enjoy your chocolate peaches 🙂
watch how to make it here:
© 2021, The chocolate brain. All rights reserved.