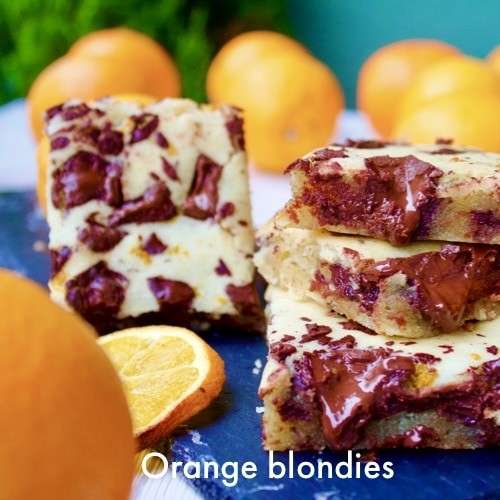 If you ask yourself what dessert existed before chocolate brownies the answer is blonde brownies 🙂 …Yes , blonde brownies were created way before chocolate brownies…they are made without cocoa powder that usually is substitute with vanilla flavor …for this recipe i used fresh orange juice but you can easily substitute it with milk or vegetal milk if you prefer so….i added chocolate chips/ chunks but you can try them also with dried red fruits …they are really delicious…
Yield: 9-10 blondies
Prep time: 10 minutes

3 eggs
150 gr sugar
50 gr melted butter
1 teasp baking powder
150 gr flour
50 ml fresh orange juice(you can use milk instead if you want)
100-170 gr dark chocolate chips
pinch of salt
orange zest
preheated oven at 180°C - 20 -25 min
Preheat your oven to 180°C
Pour 3 eggs into a bowl add 150 gr sugar and beat everything for a few moments with a whisk .
Add 50 gr melted butter and 1 teasp vanilla baking powder stirring gently (if you don't have vanilla baking powder you can use normal baking powder and add some vanilla flavor)
Sift the flour and gently incorporate it , then add 50 ml fresh squeezed orange juice (or milk)  and 100 -170 gr dark chocolate chunks /chips.. whisk until the mixture is completely homogenized.
Pour everything into a greased and floured mold (parchment paper ,aluminum foil) ,add some more chocolate chips if desired on top.
Carefully level the surface and bake in a preheated oven at 180°C for 20 – 25 min
Take the mold out of the oven , let cool down slightly  and cut the blondies into small squares of equal size.
Serve them warm!
watch how to make it here:
© 2021, The chocolate brain. All rights reserved.