easy Red velvet roll Cake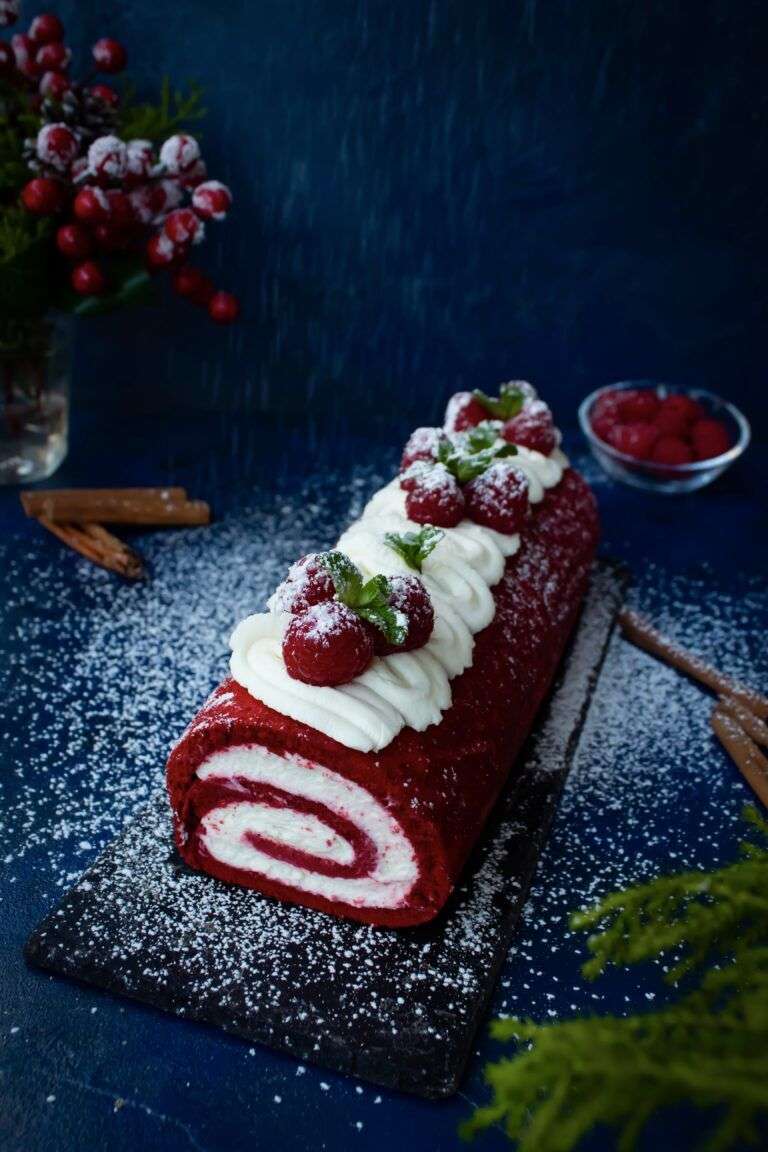 If you are looking for an easy cake recipe but still very delicious, for Christmas or any other celebration ,try my Red Velvet Roll Cake. Effortless, it will became your favorite cake and  your guests will remain very impressed by your skills and they will never guess that this was prepared at home ;-)).
Prep time:30 min+baking&chill time

ROLL CAKE BASE:
4 eggs
150 gr brown sugar (or 130 gr granulated sugar)
70 gr flour
5-10 gr cocoa powder (1 full teasp)
half teasp baking powder
half teasp red food coloring (gel)
Mascarpone cream :
250 ml heavy cream (for whipping)
100 gr vanilla powdered sugar
450-500 gr mascarpone cheese (you can use also philadelphia cheese)
raspberries &mint leaves &powdered sugar (for decoration)
Baking time: roll cake :preheated oven to 190°C -5-6 min
Preheat your oven to 190°C
In a medium bowl beat 4 eggs with 150 gr brown sugar. 
Incorporate into the mixture half teasp baking powder ,1 teasp cocoa powder and 70 gr flour (sifted).
 Line with baking paper a baking pan (35/45)
Pour and spread batter evenly on your prepared pan.
Bake in a preheated oven at 190°C – 5-6 min.
Remove from the oven your cake and let it cool down completely.
PREPARE YOUR MASCARPONE CHEESE FILLING:
In a medium bowl beat 250 gr heavy cream (for whipping )with 100 gr powdered sugar .
In another bowl put your mascarpone cheese, work it slightly with a spatula and then add gradually the whipped cream that you prepared before.
When your roll cake base is cooled down, spread your mascarpone cheese filling on top (leave some cream  for decoration)and carefully roll your cake.
Wrap your red velvet roll cake in some plastic wrap and place it in the fridge for at least 30 min.
After 30 min remove it from the fridge and decorate it with your left over cream ,raspberries and mint leaves.
Enjoy your Red Velvet Roll Cake 🙂
Step by step picture recipe: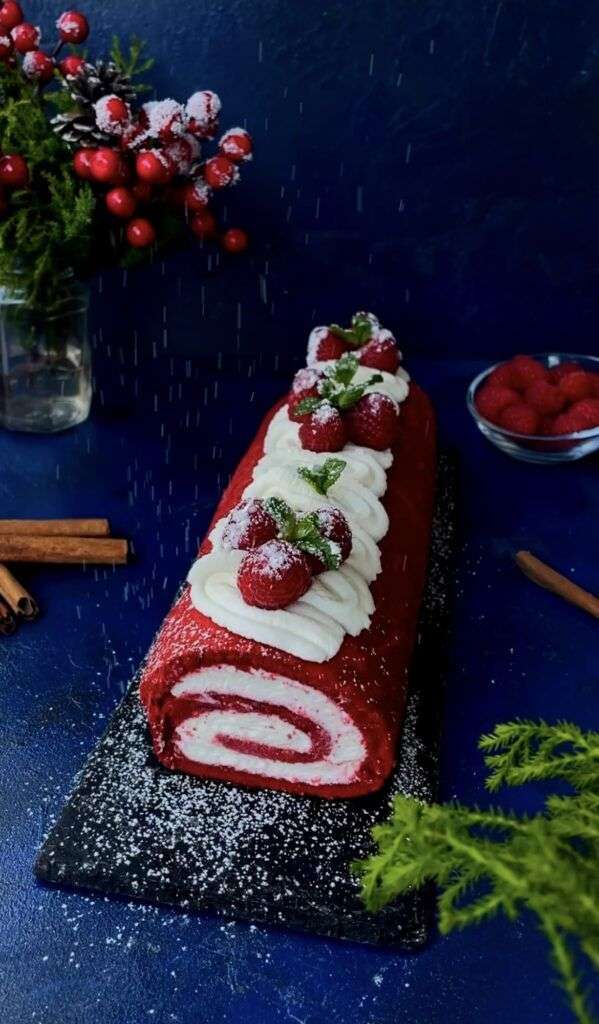 © 2021, The chocolate brain. All rights reserved.